Chigo ZD-D03 Portable Folding Double Voltage Travel Electric Kettle
 Food-grade silicone and 304 stainsteel steel material to provide safely resists high temperatures (From -40 degree to 230 degree) and maintains structure stability with hot water.
110V-240V voltage switching, This convenient electric foldable water kettle with removable plug perfect to take along wherever you go. Please confirm the local voltage before, and select the corresponding voltage at the bottom of the kettle.
Simply extend, fill, knob the button,and you can get hot water in minutes. Perfect for your favorite beverages or delicious meals. Morning, noon, or night, there is no bad time to use the the Folding Travel Kettle.
Made of high quality food grade silicone, the electric kettle is completely collapsible for easy storage and travel. Enjoy a hot cup wherever you are. 
Boil Dry Protection, this electric kettle saves energy and protects you by automatically shutting your electric tea kettle off if it senses that there is no more water left. 
Easy to Use, Start enjoying hot, comforting beverages in no time! We have provided a handy, step by step, easy to read instructional manual to get you started.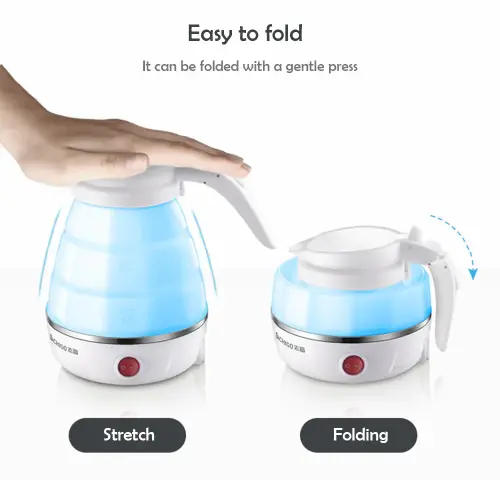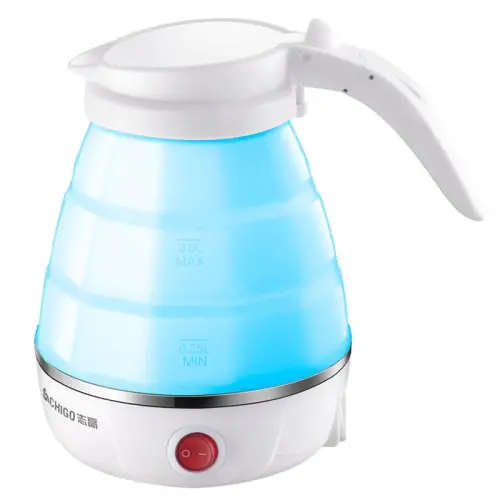 ---
We Also Recommend